MONOLITH CULT 'Run from the Light' out today!
22nd July 2013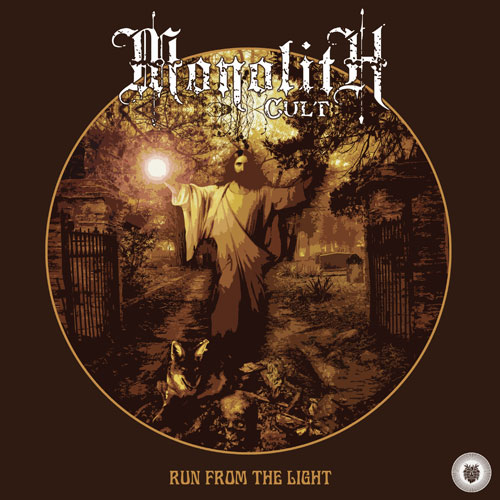 MONOLITH CULT album 'Run from the Light' is out today!, limited to 300 copies on white vinyl & CD, so give yourself a big heavy treat and pay a visit to our online store, we're also offering a vinyl + CD deal, big thanks to everyone who has pre-ordered a copy shipping has already started. Future Noise Big Cartel store http://futurenoise.bigcartel.com
A number of great reviews have already come in, thanks to all involved.
"Album of the day 1st July" – ROADBURN
"The album is expertly produced and played by all involved. I hope this is the start of many great things to come from this superb band. It is simply a stunning album I cannot recommend highly enough. – THE SLUDGELORD
Ultimately if you like the rich history of rock like Ozzy, like St Vitus and Rainbow, flavoured with the cream of the UK Underground then you should be killing yourself to listen to this album. – THE SLEEPING SHAMAN
"Monolith Cult, a foot-stomping, fist-in-the-air rabble-rouser. Here the vocals are Joe Lynn Turner possessed by Ronnie James Dio, and, despite Bry's candour, it works a bloody treat. The crooning rides beautifully atop Baines' guitar, a tuned down riff machine that's ever changing, ever-fluid and ever brilliant" – THE LAIR OF FILTH
"Monolith Cult are able to accomplish throughout as one might hope, also giving a glimpse of where the foursome might be able to go with the sound their next time out. At around five and a half minutes in, it kicks into a steady thud that finishes the album with a moment of ultra-satisfying groove, giving a last-minute surprise to what's already proven an impressive debut. – THE OBELISK
However, what is most striking from the first listen is the mastery of Bry Outlaw (ex-Khang) on vocals, his extraordinary ability to mix a fine vocal technique with the ability to give a great emotional to the tracks. To make it better with a comparison is a bit 'like when you hear the recordings of Johan with Candlemass Langquist and then switch to those with Messiah Marcolin – CHURCH OF DEVIANCE
Links
http://www.facebook.com/pages/Monolith-Cult/469161969792692
http://www.future-noise.co.uk
http://futurenoise.bandcamp.com