Future Noise Releases
Bastard Of The Skies / Grimpen Mire - Split 12" 2014
FUN016
Blackburn's noisiest sludge merchants Bastard Of The Skies & Birmingham's purveyors of filthy doom Grimpen Mire go head to head on a limited split 12".
Monolith Cult 'Run From The Light' CD/LP 2013
FUN015
Heavy fucking rock fuelled by sounds of Goatsnake, Grief, Sabbath, Purple, Heep & Rainbow, described as "Good times for the end times", featuring members from Lazarus Blackstar & Khang.
Coma Wall / Undersmile 'Wood & Wire' CD 2013
FUN014
'Wood & Wire' brings together Oxford's monolithic Undersmile and their acoustic alter-ego Coma Wall on one release, CD version also includes a bonus track not available on the vinyl.
Pohl 'Pohlsmoker' CD 2013
FUN013
'Pohlsmoker' by Bristol based 2 piece Pohl features 5 tracks + bonus hidden track that combines tortured vocals, octave driven guitars and breakneck drumming with a genre-melding songwriting approach.
Bastard Of The Skies 'Tarnation' CD 2012
FUN012
The third full length album from Bastard of The Skies, recorded by Matt Richardson at Full Stack Studio, mastered by James Plotkin with artwork by Sean Schock.
Undersmile 'Narwhal' CD 2012
FUN011
Clocking in at just under the 80-minute mark, Narwhal was co-produced and mixed by the band and Jimmy "Evil" Hetherington and mastered by the legendary Billy Anderson.
Paul Catten 'Themes & Variations For Strings & Electronics' CD 2011
FUN010
The new solo album from Mr Paul Catten, featuring 5 compositions of Classical Deconstruction, limited to 200 copies hand printed using a victorian letterpress.
Black Sun 'Twilight Of The Gods' CD 2010
FUN009
Glasgow's finest destroy all, burn your record collection, this is all you need!! Recorded at Glasgow's Riverside Studios by the legendary Duncan Cameron and features guest vocals from Oxbow front man Eugene Robinson.
Charger 'Disgust At The Status Quo' CDEP 2009
FUN008
The Fuzzbastards are back with 3 new tracks, recorded at Lizard Lounge Studio by Alex Jockel, of absolute Brutal Crust Induced Sludge at a pace which is just relentless!
Unearthly Trance/Ramesses - Split 10" 2009
FUN007
Limited 10" split vinyl, featuring two exclusive recordings by the deadly brotherhood that is Unearthly Trance & Ramesses. This release was also to commemorate the band's third European tour together in 2009.
SOLD OUT!
They Are Cowards - Demo#1 CDR 2008
FUN006
4 tracks of Heavy Downtuned Doom from Manchester, prepare to be Doomed! Members when on to play in Pine Barrens.
SOLD OUT!
Lazarus Blackstar 'Tomb of Internal Winter' CDEP 2008
FUN005
Three tracks of Crust Blackened Doom, recorded at Studio 1in12, features new vocalist Mik Hell and comes with an 8 page booklet.
Rise To Thunder 'Master of Infinite Wisdom' CDR 2007
FUN004
Three stunning, heavy, trippy instrumental, two tracks recorded at the Lizard Lounge and one at the psychedelic batcave.
SOLD OUT!
Stuntcock vs The Sontaran Experiment CDR 2007
FUN003
An intense ride through harsh noise to ambience versus crushing doom, blastbeats, harsh electronics and manic vocals.
Raucous 'In The Name Of Moving On' CD 2006
FUN002
Seven tracks of crushing heaviness interspersed with skewed melody and moments of fragile beauty.
SOLD OUT!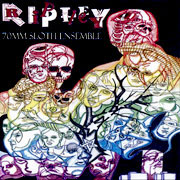 Ripley - CDR 2004
FUN001
Manchester "RedHouse" Filth influenced by EHG, Cavity, Grief, Early Neurosis etc, members later went on to play in Raucous, Thade, Atlas & Dog Kicked In Half.
SOLD OUT!